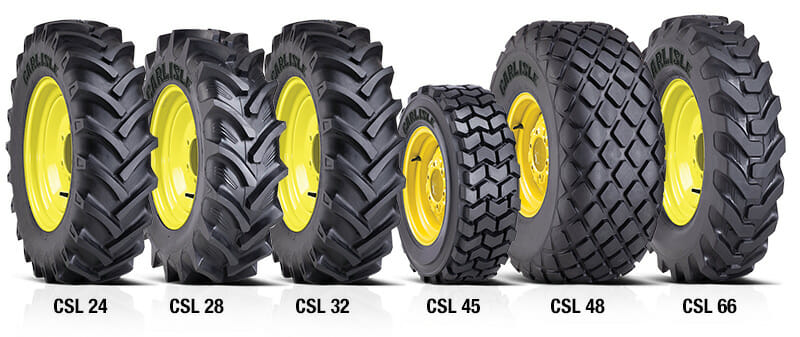 Franklin, TN – August 28, 2017 – The Carlstar Group will showcase its new line of Carlisle branded large diameter tires at the 2017 Farm Progress Show August 29-31st in Decatur, IL.
The new line expands the Carlisle branded tire portfolio by introducing six new tread patterns with bead diameters ranging from 16 inches to 54 inches and includes both radial and bias tires.
"The Carlisle brand of tires has a long history in the Agriculture market with our robust line of semi-pneumatic and pneumatic tires," said Ashish Goel, Executive Vice President of Marketing at the Carlstar Group. "With this large diameter expansion in our portfolio, we are now able to offer customers a complete line of agricultural tires.
In addition to a robust portfolio of Agricultural equipment solutions, the Carlstar Group is set to exhibit performance tires for ATV/utility vehicles, tractors, lawn equipment, and trailers that help farmers accomplish their daily work safely and efficiently.
The recently launched CSL 16 All Steel Radial tire for industrial trailer applications is anticipated to be showcased, as well as the AT489 and Versa Trail ATV/UTV tire. With tires that cross multiple segments anticipated for display, The Carlstar Group is looking to educate this audience on its diverse product portfolio. The expansive product display at the Farm Progress Show will showcase how various specialty tire segments can cross over for the modern farmer.
"Our treads are not only turf-friendly and hard working with increased traction, but are also ideal for traditional crop activities, said Goel. "We pride ourselves on developing product solutions that work as hard as our customers do. And when it comes to our Farm Solutions, we know that performance, durability and peace of mind are critical components to our product offering."
Download Full Press Release and Product Photos
###
About Carlisle Branded Tires and Wheels
The Carlisle branded specialty tire and wheel line provides a comprehensive product portfolio for outdoor power equipment,Powersports, trailers, agriculture, construction, industrial, and tube/flap market segments. A staple on original equipment machines for work and for play, the Carlisle brand is well-known among leading manufacturers as well as aftermarket retailers in the tire and wheel industry. Long recognized as a leader in the industry, the Carlisle brand offers best-in-class quality, cutting-edge technology and product performance.
About The Carlstar Group
The Carlstar Group is headquartered in Franklin, Tennessee, and is a global manufacturer of original equipment and aftermarket specialty tires and wheels for the agriculture, construction, outdoor power equipment,powersports, high-speed trailer and flat free/manual markets. The diverse portfolio of solutions are offered under several leading brands including Carlisle® tires and wheels, ITP® tires and wheels, as well as Cragar®, Black Rock® and Unique® wheels and Marastar® flat free and manual tires. The Carlstar Group employs 3,000 associates in 15 facilities located in four countries. The Carlstar Group has a culture of converting great ideas into advanced products and has created a legacy of excellence in product innovation, quality, and customer service. For more about The Carlstar Group, visit www.carlstargroup.com.