POWERSPORTS
Untouched terrain, fresh air, and the grip of tread in fresh mud is every outdoorsman's dream. The taste of freedom comes from the edge of an Appalachian cliff after a rocky climb, an open field yearning to be bulldozed with your new ATV tires, or hearing the trees speak as a gust of wind sails through the mid-December woods. From extreme traction for your bold adventures, to ensuring your chores are completed with precise handling and comfort, our ITP® and Carlstar (formerly Carlisle®) branded ATV and UTV tires will help you get the job done.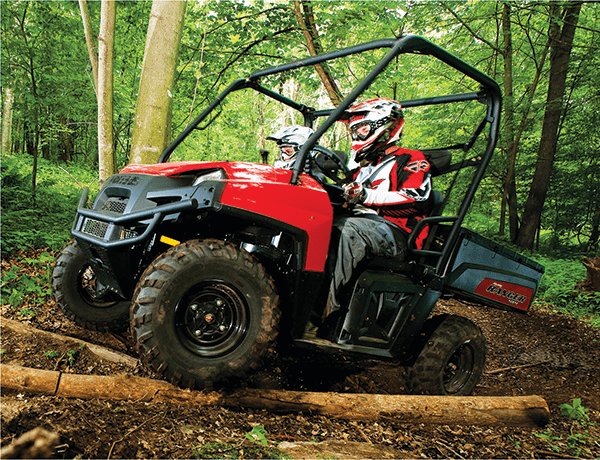 An avid sportsman looks forward to digging up dirt at the hunting camp, racing through the desert, or seeing how filthy their vehicle can get in the mud. For extreme performance, your vehicle needs to be outfitted with extreme tires and wheels that are not only built tough, but look tough too. Built around Innovation, Traction and Performance, ITP® branded tires and wheels are made for adventure. When it comes to tire durability and construction that can conquer any challenging terrain, no detail is overlooked. From radial designs, deep angled self-cleaning grooves or increased flex for a wider footprint, your ITP® tires will brace you for the unpaved path that lies ahead.  
Increased tire durability calls for the demand of exceptional wheel strength. Our ITP® steel and aluminum wheels, designed specifically to support your ITP® tires, offer powerful performance with structural integrity. Our tire and wheel combinations give an alluring presence for anyone who dares to journey the rough terrain.
Working the land comes with tenacity and pride. Whether you are hauling tools to your shed after fixing the fence, herding your livestock for the morning feed, or just need a means of transportation around your land, our Carlstar (formerly Carlisle®) branded ATV, UTV, and side-by-side tires are there when getting the job done is crucial.
As a trusted tire and wheel partner for Polaris, Artic Cat, John Deere, and Can-Am vehicles, The Carlstar Group is always looking for new ways to bring more adventure and service to your life. We strive to combine your love for the outdoors with tire design and performance to maximize your experience.
Carlisle branded tires are now Carlstar. The Carlstar specialty tire and wheel line provides a comprehensive product portfolio for lawn and garden, ATV and UTV, trailers/haulers, agriculture, construction, industrial, and tube/flap market segments. Long recognized as a leader in the industry, Carlstar offers best-in-class quality, cutting-edge technology, and product performance.
The premier ITP products are locally engineered in Tennessee utilizing an experienced staff of engineers, designers and technicians. ITP tires and wheels meet the demands of today's off-road enthusiasts by delivering unequalled traction, precise handling and exceptional durability to overcome the world's most challenging terrain.