OUTDOOR POWER EQUIPMENT: LAWN, GARDEN & GOLF
When it comes to your lawn and garden, the right tools are essential for getting the job done. Whether you're a grounds care professional or a weekend warrior with a to-do list a mile long, you need dependable tires on your equipment to ensure you not only get the job done efficiently, but beautifully. 
From tractors and zero-turn lawnmowers for professional maintenance equipment to wheelbarrows and residential riding mowers for everyday chores, The Carlstar Group offers the broadest line of tires under our Carlisle®, Marathon® and Marastar® brands.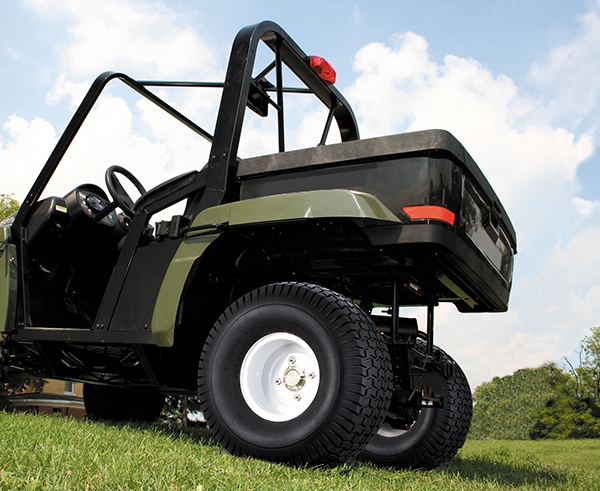 As a grounds care professional, stability is key to maximizing performance. You need tires on your equipment that are versatile, durable and most importantly, turf-friendly. Our Carlisle® branded lawn and garden tires help you cover a large amount of ground using enhanced traction while keeping you confident on hillsides and around tight corners. Your work is your signature so be sure to leave the right impression on the ground, not tire tracks.
When it comes to lawn care for your home, our robust line of outdoor products can help you tackle your weekly maintenance, or that landscaping project you promised to do last spring. And with a variety of pneumatic and flat-free tires for mowers, wheelbarrows and hand trucks, moving those boxes in the garage or hauling debris from the yard becomes a breeze.
Whether you live in a closed community and need an easy way to zoom around the neighborhood or like to end your chore-filled day with a round of golf, Carlisle® and ITP® branded golf and utility tires can help you reach your destination safely. With options such as low profile tire, and strong rubber compounds, our long last tire will provide you with miles of flawless performance.
From your passion for work, chores and your value of your own land, The Carlstar Group takes pride in knowing our products can help you accomplish every outdoor task. 
The Carlisle branded specialty tire and wheel line provides a comprehensive product portfolio for lawn and garden, ATV and UTV, trailers/haulers, agriculture, construction, industrial, and tube/flap market segments. Long recognized as a leader in the industry, the Carlisle brand offers best-in-class quality, cutting-edge technology and product performance.
The premier ITP products are locally engineered in Tennessee utilizing an experienced staff of engineers, designers and technicians. ITP tires and wheels meet the demands of today's off-road enthusiasts by delivering unequalled traction, precise handling and exceptional durability to overcome the world's most challenging terrain.
For over 15 years Marastar has been a trusted business partner for retailers, distributors and OEMs across a variety of industries. Marastar strives to provide consumers with products that are easy to purchase and install, and built to take on everyday challenges. As a lead provider of Marathon flat free tires, air-filled tires (pneumatic), residential and contractor wheelbarrows, hand truck tires and lawnmower tires, Marastar serves as a one-stop-shop for any handyman.