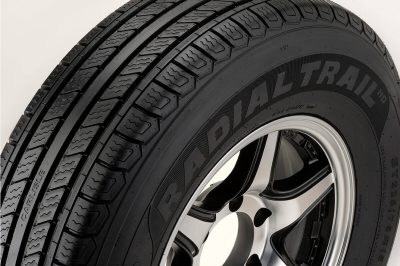 Franklin, TN – September 28, 2016 – The Carlstar Group today announced the launch of the Radial Trail HD tire sold under the Carlisle® brand. The Radial Trail HD is the next generation in specialty trailer tire technology from The Carlstar Group and ensures protection and durability for both work and play.
"As the superior radial tire for every type of towing, Radial Trail HD is built to help keep your life moving," stated Ashish Goel, Executive Vice President of Marketing at The Carlstar Group. "With increased durability, modern design, and excellent wear performance, the Radial Trail HD is engineered with safety and protection of consumer's time and investment in mind." 
The Radial Trail HD tire's robust construction increases resistance to cuts, impacts, and punctures reducing the risk of tread separation. The tire features a wear-resistant tread compound resulting in extended tire life. 
Through rigorous real-life testing, the Radial Trail HD showed a 10% increase in tread life – proving to be the best, and toughest, radial trailer tire in the market.
"We know how valuable the items that we tow can be, and making sure that you get to your destination safely is imperative," stated Goel. "That's why we invested in the cutting edge technology of the Radial Trail HD to protect your time, your investment, and your family." 
About Carlisle branded tires and wheels
The Carlisle branded specialty tire and wheel line provides a comprehensive product portfolio for outdoor power equipment, powersports, trailers, agriculture, construction, industrial, and tube/flap market segments. A staple on original equipment machines for work and for play, the Carlisle brand is well-known among leading manufacturers as well as aftermarket retailers in the tire and wheel industry. Long recognized as a leader in the industry, the Carlisle brand offers best-in-class quality, cutting-edge technology, and product performance.
About The Carlstar Group
The Carlstar Group is headquartered in Franklin, Tennessee and is a global manufacturer of original equipment and aftermarket specialty tires and wheels for the agriculture, construction, outdoor power equipment, powersports, high speed trailer and flat free/manual markets. The diverse portfolio of solutions are offered under several leading brands including Carlisle® tires and wheels, ITP® tires and wheels, as well as Cragar®, Black Rock® and Unique® wheels and Marastar® flat free and manual tires. The Carlstar Group employs 3,000 associates in 16 facilities located in four countries. The Carlstar Group has created a culture of converting great ideas into advanced products has created a legacy of excellence in product innovation, quality, and customer service.