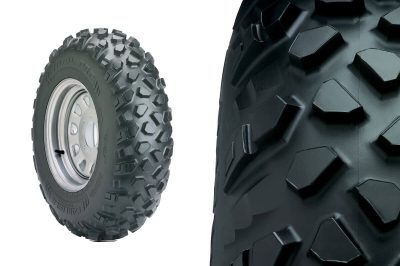 The Carlstar Group is excited to introduce the new Carlisle® Trail Pro® tire for ATVs, UTVs, and Side by Sides. Trail Pro is a premium-quality tire that provides a smooth ride even on mixed terrain.
The non-directional, self-cleaning tread pattern of the Trail Pro delivers amazing forward and lateral traction along with excellent braking qualities, exceptional tread wear, and cut resistance. The scalloped shoulder provides additional puncture protection and prevents mud from packing.
"Lab and field testing prove that Trail Pro is rock-solid and provides superior ride quality in rugged environments," said Jennifer Weber, Product Marketing Manager of Powersports.
The US-based engineering team designed the Trail Pro line with the conditions of the Side by Side in-mind including 25" to 27" tires and size-specific ply rating. The 12-inch tires have a tough 4-ply rated carcass for increased durability. The robust 14-inch tires are designed with a 6-ply rated construction to maximize puncture resistance.
Trail Pro is available in the popular sizes shown below.
25×10-12 NHS
25×8-12 NHS
26×9-12 NHS
26×11-12 NHS
27×9-14 NHS
27×11-14 NHS