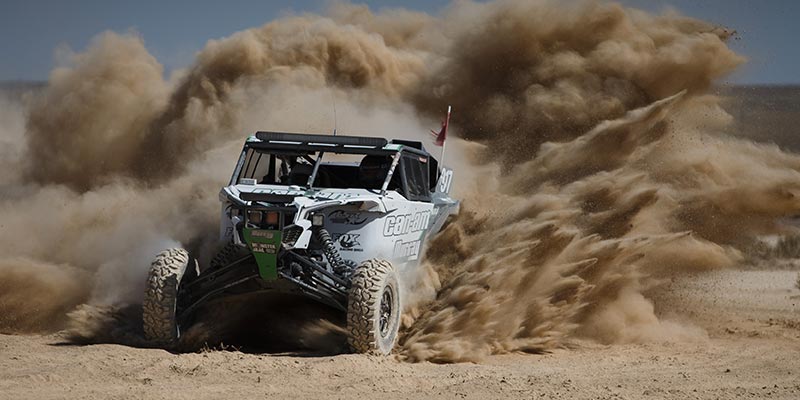 Team ITP racers Derek and Jason Murray captured second place in the UTV Pro Turbo ranks at the 2019 Best In The Desert "Vegas To Reno" race held last week in Nevada.
Fresh from their stellar Baja 500 performance, the Murray brothers came to Reno on a mission: to be among the handful of teams to even finish the race. BITD's "Vegas to Reno" competition is known as the longest and toughest race in the series; most race teams never make it to the finish line. Fast forward 10 hours — the Murrays not only accomplished their mission, with the team taking second place against all side-by-side classes, they ended up 31st overall even against the cars and race trucks.
The Murray Brothers rode to the podium on ITP's 32-inch Ultra Cross tires on their turbocharged Can-Am Maverick X3 side-by-side vehicle. The brothers described the race terrain as a challenging mix of rally roads, rocks and giant silt beds.
"505 miles of gnarly, Nevada desert without a single flat!," texted Jason Murray. "Ultra Cross tires gave us the confidence we needed to push the car hard to a podium finish."
"It's a joy to have such a professional team like the Murrays make the podium," said Rhett Turpin, Director of ITP Sales at The Carlstar Group. "They continue to run and trust ITP's Ultra Cross tires. Zero flats is a huge statement in desert racing, where any downtime for repairs or tire swaps can cost you the race!"
Their second-place finish had the Murray Brothers beating 50-some other vehicles in their class and roughly more than 110 total side-by-side vehicles to the finish line. The Murray Racing squad was also one of only three SxS teams to crack the sub-10-hour mark during the 500-plus-mile event.
"We are stoked with a second-place finish," Murray added. "It puts us in a solid spot going into the final race of the year. We are currently sitting second overall behind our teammate and fellow Can-Am racer Phil Blurton. We are pushing hard to finish the season off with a Can-Am sweep."
Dustin "Battle Axe" Jones also put together a top-five finish for Team ITP, earning fourth place in the UTV Pro Turbo class in his S3 Racing-backed Can-Am.
Two additional ITP racers finished inside the UTV Pro Turbo class top 10 in Nevada, as Cognitio Motorsports' Justin Lambert took ninth. Mitch Guthrie Jr., the 2019 King of the Hammers UTV class champion, finished 10th.
For more information on ITP Tires and its complete off-road tire lineup, visit www.itptires.com.
ABOUT ITP
Since 1982, ITP has been the world's #1 ATV/UTV aftermarket tire and wheel source. The premier ITP products are developed utilizing an experienced staff of engineers, designers and technicians at its two American tire facility in Clinton, Tennessee, and Jackson, Tennessee, to develop award-winning tire-and-wheel designs for virtually all ATVs and side-by-side vehicles. Numerous outlets distribute ITP tires across the United States and in more than 25 countries worldwide. ITP is a registered trademark of The Carlstar Group, LLC. For tech questions call: 1-909-390-1905. Visit: www.itptires.com
About The Carlstar Group
The Carlstar Group is headquartered in Franklin, Tennessee and is a global manufacturer of original equipment and aftermarket specialty tires and wheels for the agriculture, construction, outdoor power equipment, powersports, high speed trailer and manual markets. The diverse portfolio of solutions are offered under several leading brands including Carlisle® tires and wheels, ITP® tires and wheels, as well as Cragar®, Black Rock® and Unique® wheels and Marastar® flat free and manual tires.
The Carlstar Group employs over 3,400 associates in 17 facilities located in 4 countries. The Carlstar Group has a culture of converting great ideas into advanced products and has created a legacy of excellence in product innovation, quality, and customer service. For more about The Carlstar Group, visit www.carlstargroup.com