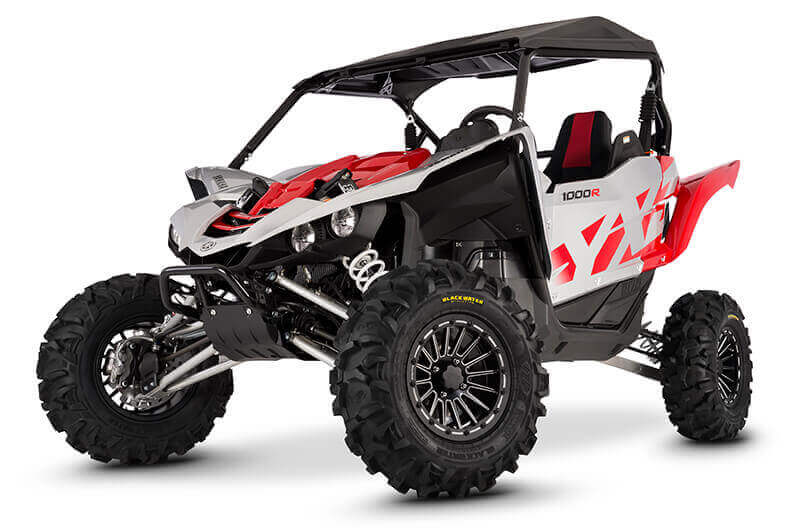 CLINTON, Tenn., June 17, 2016 — ITP unveiled today a new finish for its Severe-Duty ("SD") Single Beadlock wheel for ATVs and side-by-side vehicles. The all-new ITP SD Alloy Single Beadlock wheel's finish is striking in appearance, but is also functionally durable to meet the demands of challenging terrain.
"The ITP Severe Duty Alloy wheel remains a popular choice for racing and those riders serious about off-road performance," said Rhett Turpin, Head of ITP Sales. "The new black finish with milled edges and 16-spoke configuration combine with the durable single beadlock design to give the SD Alloy wheel a high-grade appearance and enhanced tire security for aggressive driving."
Engineered from lightweight, superior-strength aluminum alloy, the SD Alloy wheel uses an "advanced manufacturing process" that molds a single piece of aluminum alloy into a light, yet incredibly strong wheel.
The lightweight SD wheel, which allows more inner clearance between the wheel and hub, includes the proprietary ITP "Rock Armor" inner wheel lip and a fully functional outer beadlock. The durable design gives vehicle owners peace of mind by offering optimal wheel strength against breakage from rocks and debris and outer tire bead security for when the conditions demands it. In addition, ITP backs the wheel with its Limited Lifetime Warranty.
"The Severe Duty Beadlock design was designed as the 'go-to wheel' for those who demand the ultimate performance products when they ride off-road," adds Turpin. "We engineered the wheel to take you into the depths of the gnarliest terrain and get you back again. The more modern finish better appeals to those buyers who enjoy customizing their vehicles, but aren't willing to sacrifice durability for good looks."
The new SD Alloy wheels are slated to arrive in dealerships in August 2016. Two sizes will be available — 14×7 inch and 15×7 inch — in all popular bolt patterns. Pricing for the ITP SD Alloy Single Beadlock wheel starts at $160.
About ITP
Since 1982, ITP has been the world's #1 ATV/UTV aftermarket tire and wheel source. The premier ITP products are developed utilizing an experienced staff of engineers, designers and technicians at its two American tire facilities in Clinton, Tennessee, and Jackson, Tennessee, to develop award-winning tire-and-wheel designs for virtually all ATVs and side-by-side vehicles. Numerous outlets distribute ITP tires across the United States and in more than 25 countries worldwide. ITP is a registered trademark of The Carlstar Group, LLC. For a free, full-color ITP catalog, call toll-free: 1-800-889-7367. Tech questions call: 1-909-390-1905.
About The Carlstar Group
The Carlstar Group is headquartered in Franklin, Tennessee, and is a global manufacturer of original equipment and aftermarket specialty tires and wheels for the agriculture, construction, outdoor power equipment, powersports, high-speed trailer and flat free/manual markets. The diverse portfolio of solutions are offered under several leading brands including Carlisle® tires and wheels, ITP® tires and wheels, as well as Cragar®, Black Rock® and Unique® wheels and Marastar® flat free and manual tires. The Carlstar Group employs 3,000 associates in 16 facilities located in five countries. Since 1917, a culture of converting great ideas into advanced products has created a legacy of excellence in product innovation, quality, and customer service. For more about The Carlstar Group, visit www.carlstargroup.com