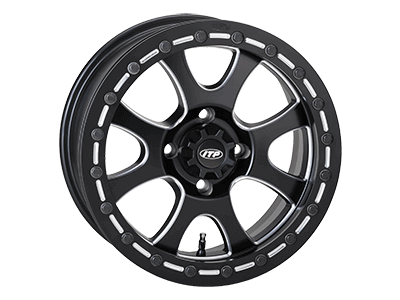 Clinton, TN, May 24, 2016 — ITP today announced that it will launch the new "Tsunami" wheel for ATVs and side-by-side vehicles in August of this year.
"Our third offering in ITP's STORM SERIES line, the Tsunami is a contemporary interpretation of the classic eight-spoke design," said Rhett Turpin, Head of ITP Sales.  "It comes in two versions –- single beadlock for total tire security and 'simulated' beadlock for value-minded consumers who want that beadlock look."
The Tsunami wheels are expected to arrive in dealerships in August this year. Two sizes will be available for both the beadlock and simulated versions — 14-in and 15-in. -– in all popular bolt patterns.
The lightweight Tsunami wheel is as rugged as they come and incorporates ITP's proprietary "Rock Armor" inner wheel lip to provide vehicle owners with maximum wheel strength against breakage from rocks and debris.  The Tsunami's simulated beadlock wheel is further strengthened with "Rock Armor" outer lip protection.
ITP engineers created the Tsunami wheel from the same super-light, superior strength aluminum alloy that's also used in the other two STORM SERIES wheels, the Hurricane and the Tornado.  The result is a wheel with unmatched structural integrity and a load capacity rating of 1,200 lbs.  Both versions are backed by ITP's Limited Lifetime Warranty.
"Wheel strength is the hallmark of ITP's STORM SERIES wheel line," adds Turpin. "That's why we named each wheel in the STORM SERIES after the most powerful forces in nature. Riders can only conquer the world's most challenging terrain when they use tires and wheels that are up to the task." MSRP for the simulated beadlock is expected to be in the $110-120 range. The beadlock versions will sell in the $160-195 price point.
About ITP
Since 1982, ITP has been the world's #1 ATV/UTV aftermarket tire and wheel source. The premier ITP products are developed utilizing an experienced staff of engineers, designers and technicians at its two American tire facilities in Clinton, Tennessee, and Jackson, Tennessee, to develop award-winning tire-and-wheel designs for virtually all ATVs and side-by-side vehicles. Numerous outlets distribute ITP tires across the United States and in more than 25 countries worldwide. ITP is a registered trademark of The Carlstar Group, LLC. For a free, full-color ITP catalog, call toll-free: 1-800-889-7367. Tech questions call: 1-909-390-1905.
About The Carlstar Group
The Carlstar Group is headquartered in Franklin, Tennessee, and is a global manufacturer of original equipment and aftermarket specialty tires and wheels for the agriculture, construction, outdoor power equipment, powersports, high speed trailer and flat free/manual markets. The diverse portfolio of solutions are offered under several leading brands including Carlisle® tires and wheels, ITP® tires and wheels, as well as Cragar®, Black Rock® and Unique® wheels and Marastar® flat free and manual tires. The Carlstar Group employs 3000 associates in 16 facilities located in five countries. Since 1917, a culture of converting great ideas into advanced products has created a legacy of excellence in product innovation, quality, and customer service. For more about The Carlstar Group, visit www.carlstargroup.com