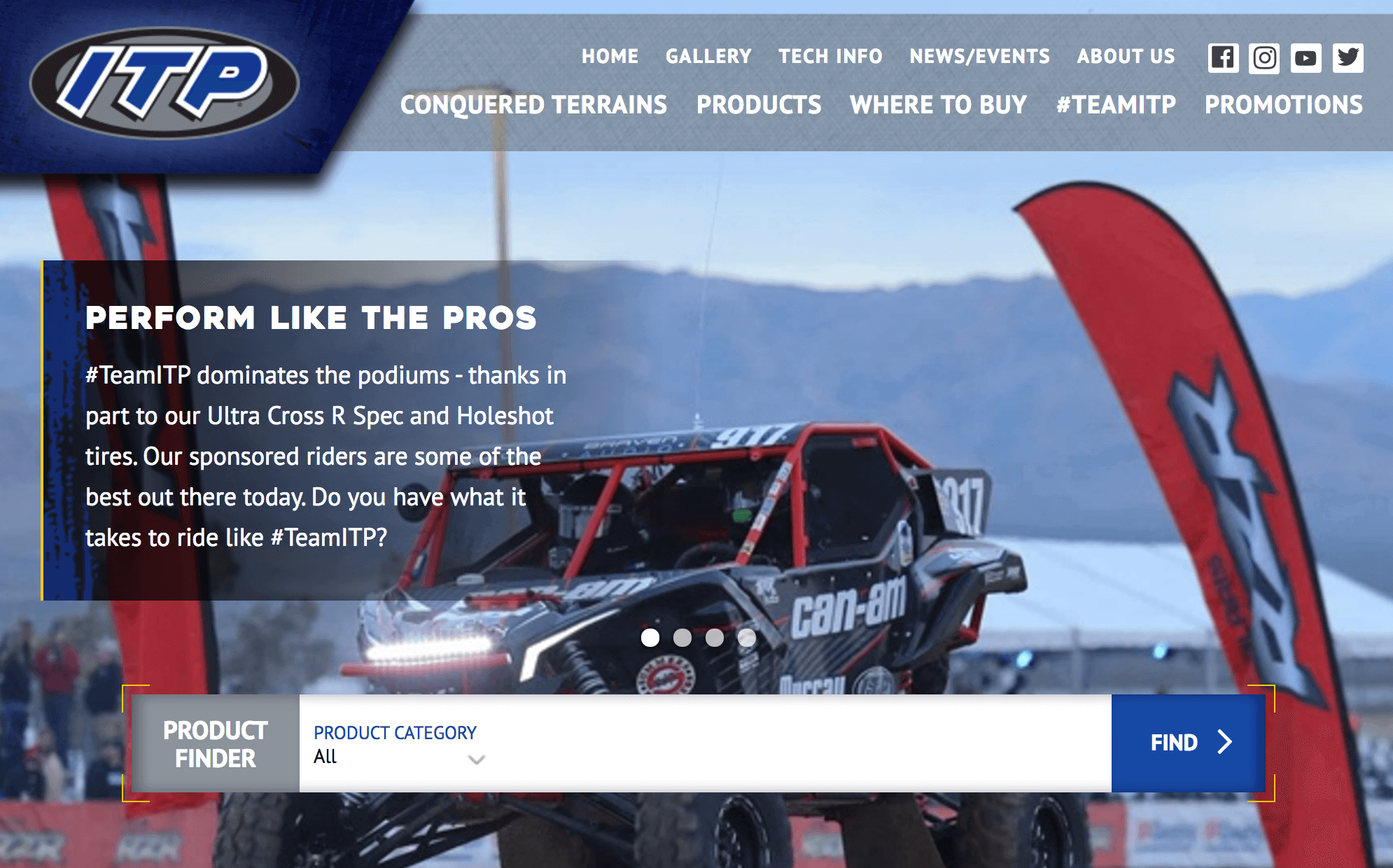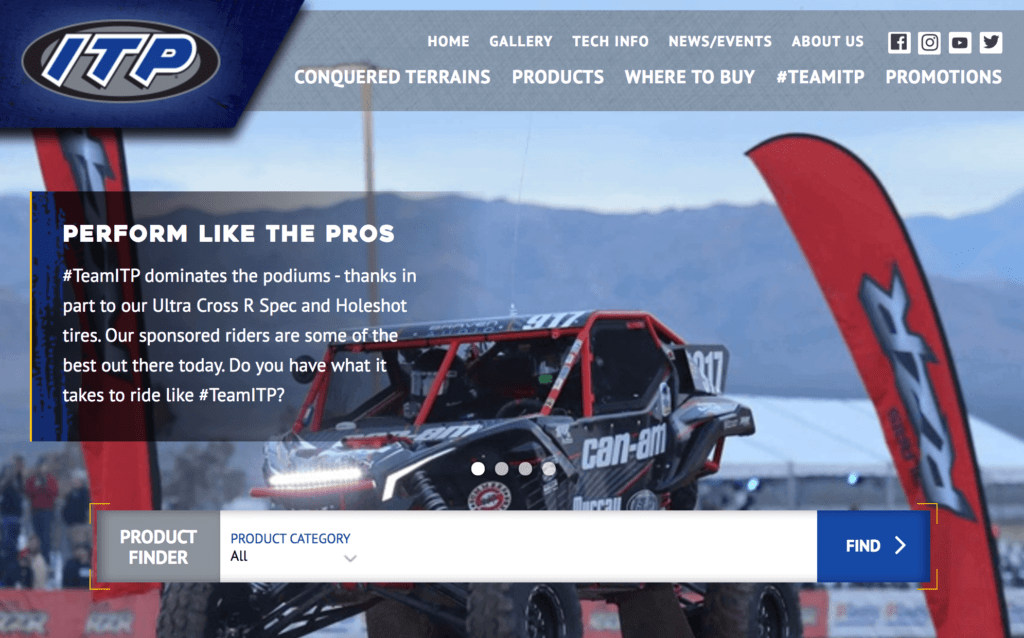 Franklin, TN – August 23, 2017 – The Carlstar Group announces the launch of a new ITP® Tire and Wheel website that will showcase the brand's elite performance products for the ATV / UTV / SXS market.
"We are excited to launch this new, improved and more user-friendly website for our ITP enthusiasts," stated Rhett Turpin, Head of ITP Sales at The Carlstar Group. "The new website, ITPTires.com, will feature the entire ITP portfolio of products that help our riders conquer the world's most challenging terrains."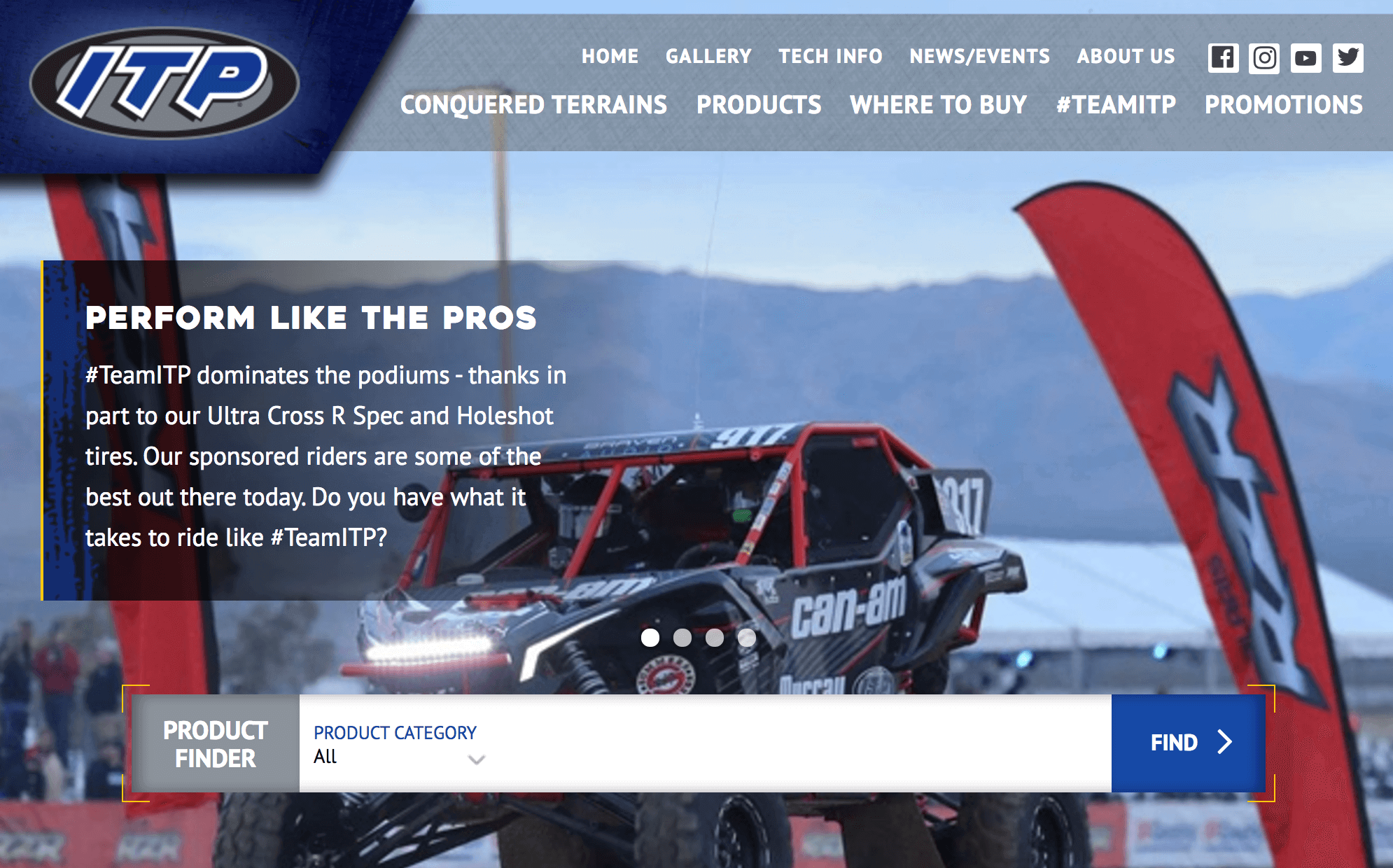 The new site features:
A robust Product Finder that helps consumers quickly search and filter our product catalog to locate the exact products they are looking for.
Quick access to local ITP Authorized Powersports Dealers and online retailers for the US and International consumers.
Technical support information including vehicle fitment guides and general equipment details
In addition, the site will showcase photo and video galleries from racing and riding events as well as our #TeamITP section. As an industry leader, ITP has had a long and successful history in sponsoring some of the best riders on the racing circuit.
"We take pride in the fact that we stand behind several drivers and their teams with performance racing products and the #TeamITP section is where consumers can learn and connect with our professional sponsored riders and get insight into what keeps them on top of the podium each race," said Turpin. "We make the same products available to our consumers so they too can perform like the pros using ITP tires and wheels."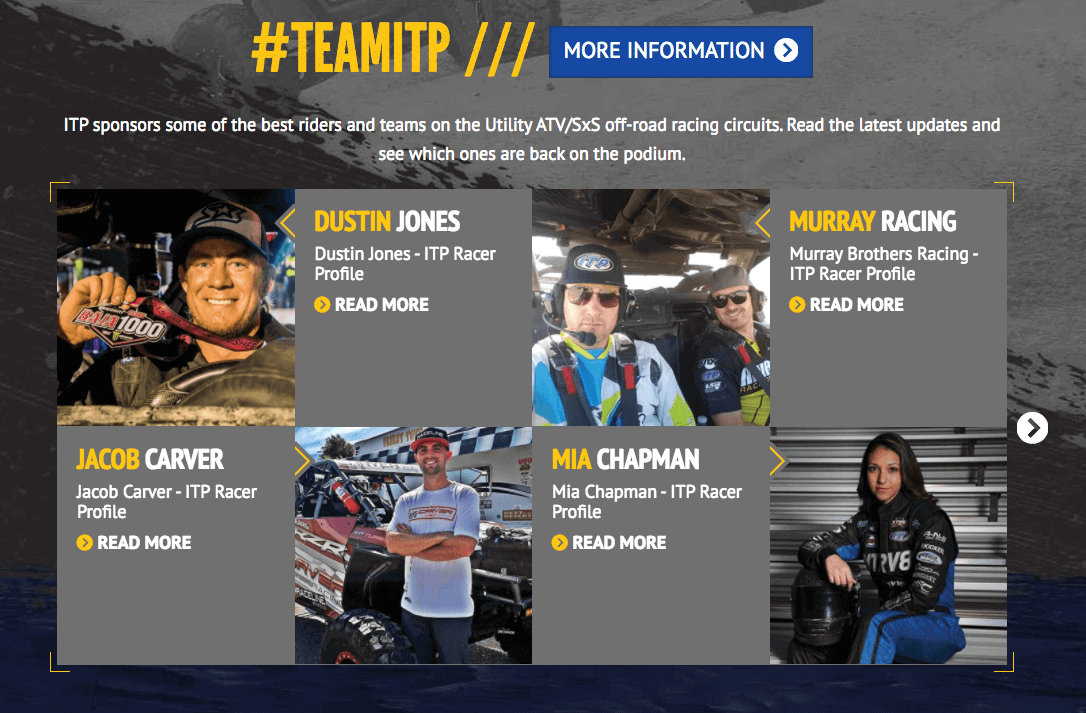 The launch of the ITP website is the final project that was part of a global company strategy to enhance its online presence with consumers. The Carlstar Group's other brands, Carlisle® tires and wheels, Cragar® and Black Rock® Automotive Styled Wheels, have already launched and introduced to the marketplace.
Download Press Release with Website Images
About ITP
Since 1982, ITP has been the world's #1 ATV/UTV aftermarket tire and wheel source. The premier ITP products are developed utilizing an experienced staff of engineers, designers and technicians at its two American tire facilities in Clinton, Tennessee, and Jackson, Tennessee, to develop award-winning tire-and-wheel designs for virtually all ATVs and side-by-side vehicles. Numerous outlets distribute ITP tires across the United States and in more than 25 countries worldwide. ITP is a registered trademark of The Carlstar Group, LLC. For a free, full-color ITP catalog, call toll-free: 1-800-889-7367. Tech questions call: 1-909-390-1905. Visit: www.itptires.com
About The Carlstar Group
The Carlstar Group is headquartered in Franklin, Tennessee and is a global manufacturer of original equipment and aftermarket specialty tires and wheels for the agriculture, construction, outdoor power equipment, powersports, high-speed trailer and flat free/manual markets. The diverse portfolio of solutions are offered under several leading brands including Carlisle® tires and wheels, ITP® tires and wheels, as well as Cragar®, Black Rock® and Unique® wheels and Marastar® flat free and manual tires. The Carlstar Group employs over 3000 associates in 15 facilities located in four countries. The Carlstar Group has a culture of converting great ideas into advanced products has created a legacy of excellence in product innovation, quality, and customer service. For more about The Carlstar Group, visit www.carlstargroup.com