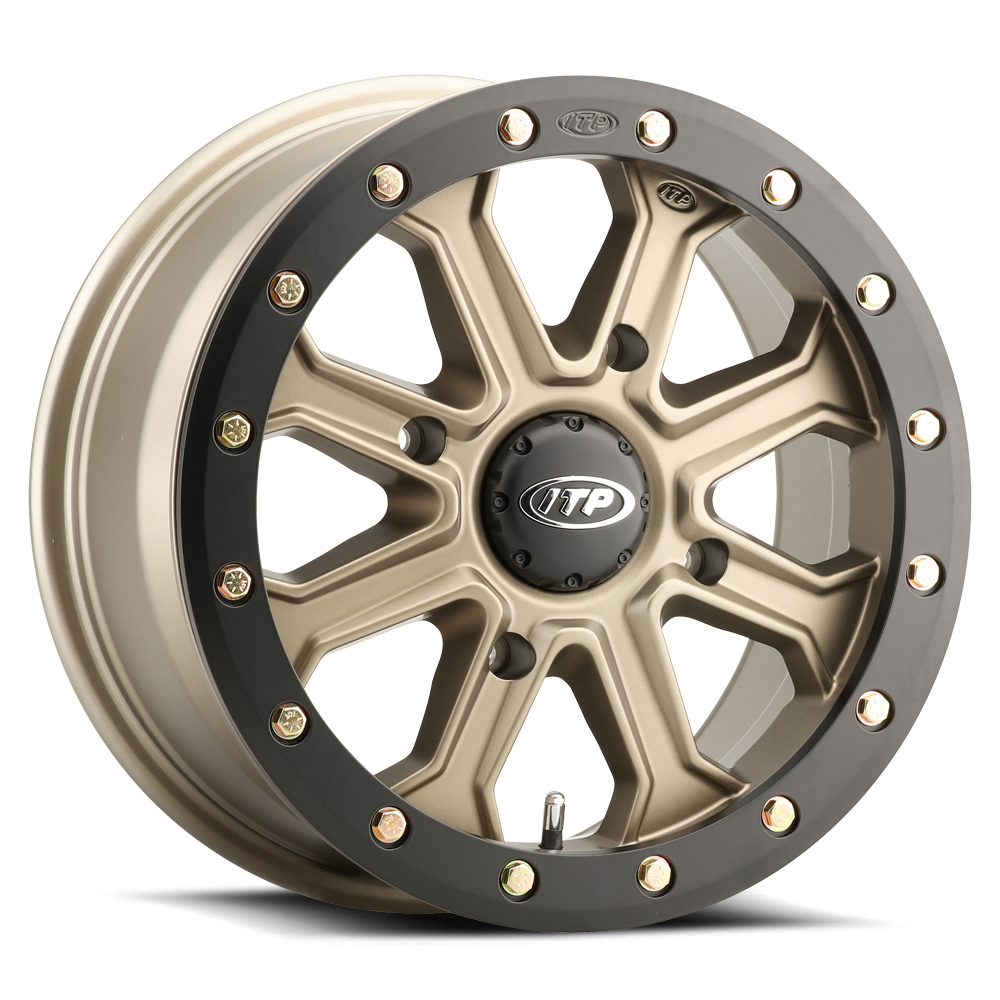 Franklin, Tenn. – July 20, 2022 – ITP is proud to announce the addition of the bronze finish option for the Inertia® Wheel. Now offered in both matte black and bronze and a design closer to OE offsets, the Inertia® Wheel offers optimum handling and fitment for newer UTVs and ATVs.

"The Inertia® Wheel, with its rugged looks in a timeless design, is now available in a popular bronze finish, allowing consumers even more style and color match opportunities," said Todd Hinson, Powersports Product Manager at The Carlstar Group.
"Consumers now have another option when it comes to customizing the look of their favorite ATV or SxS to their individual tastes," said Rhett Turpin, Director of ITP Sales at The Carlstar Group.

Built with ITP's exclusive "Rock Armor" inner wheel lip, Inertia® is the perfect choice for extreme conditions.
About ITP
Since 1982, ITP has been the world's #1 ATV/UTV aftermarket tire and wheel source. The premier ITP products are developed utilizing an experienced staff of engineers, designers and technicians at its two American tire facilities in Clinton, Tennessee, and Jackson, Tennessee, to develop award-winning tire-and-wheel designs for virtually all ATVs and side-by-side vehicles. Numerous outlets distribute ITP tires across the United States and in more than 25 countries worldwide. ITP is a registered trademark of The Carlstar Group, LLC. Tech questions call: 1-909-390-1905. Visit: www.itptires.com
About The Carlstar Group
The Carlstar Group is headquartered in Franklin, Tennessee and is a global manufacturer of original equipment and aftermarket specialty tires and wheels for the agriculture, construction, outdoor power equipment, powersports, high speed trailer and manual markets. The diverse portfolio of solutions are offered under several leading brands including Carlisle® tires and wheels, ITP® tires and wheels, as well as Cragar®, Black Rock® and Unique® wheels and Marastar® manual tires. The Carlstar Group employs over 3400 associates in 17 facilities located in 4 countries. The Carlstar Group has a culture of converting great ideas into advanced products and has created a legacy of excellence in product innovation, quality, and customer service. For more about The Carlstar Group, visit www.carlstargroup.com