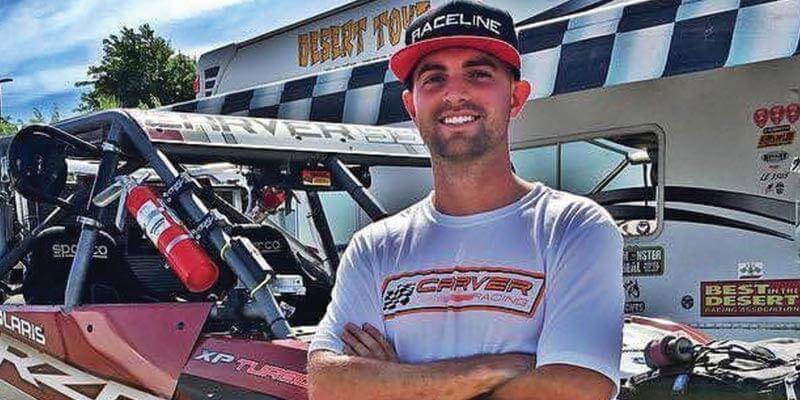 ITP Pro Racer Jake Carver has had a successful season this year by continuously finishing in top spots in both the Best in the Desert Series and SCORE International Series. We caught up with him to get more insight on his success, race preparation and his thoughts on the rest of the season.
Jake, you've been killing it in your races this year – you placed 4th at the UTV World Championship, 3rd at the Baja 500 and 2nd at the Vegas to Reno Race. What is your secret? Strategy? Luck? Confidence?
Jake: My strategy remains the same as it has always been, push yourself and your machine to the absolute limit!  We spent the entire 2017 race season working the bugs out of our new race car so we can do just that!  The competitiveness of the UTV Turbo class rises to a new level each year, and if you are not pushing yourself, you will never keep up.  We have found that success comes at the price of never giving up and always pushing right up to the edge of failure, every single race.  That sometimes mean that you will cross the line, but until you push that line, you will never get better.
Do you have a favorite racing course? You've been competing in desert racing since 2014, there must be a race you look forward to every year.
Jake: My favorite BITD course is Parker, AZ.  I like camping with all of my race family in the open parker desert and the course is an absolute blast.  I watched the parker 425 race for years before I was able to start my own race program.  Racing in parker reminds me where I started and pushes me to work hard.
Before each race, do you have a ritual you do for good luck?
Jake: Racing has become the norm for me, however I would be lying if I said I didn't have a small touch of nervousness before each race.  The best ritual for me is to enjoy my time off of work and crack jokes with my friends at the start line.  Before each race we are always joking of how we will be nerfing each other throughout the day or making fun of each other's previous race performance.  Although racing has become a serious and competitive sport for me, it is still all about having fun.  The day you lose sight of the fun in racing is the day you lose your chance at success.
In your opinion, why did you choose the ITP Ultra Cross® R Spec tire as your official tire for your Polaris RZR? Was it the non-directional tread? Its reliable construction? The ITP reputation? Did you test the tire before you decided to use it in an official desert race?
Jake: My decision to run the ITP Ultra Cross R Spec tire was based on the proven durability.  Only a few years ago I was the "new guy" and I was searching for the most durable tire to tackle the unforgiving desert terrain.  When I set out to find success in desert racing, I simply took notes of what the top racers were running.  I purchased my first set of Ultra Cross R Spec tires in 2014 and since then, the Ultra Cross R Spec has proven to be indestructible season after season.  In the large industry of aftermarket UTV products, the Ultra Cross R Spec tire is the only product that I have ran on my race car since day 1.
Overall how are you feeling about your performance this year? You have three races left this season. Are you ready for that number one spot on the podium?
Jake: This year has been a huge confidence booster for me.  I had a rough 2017 season, and getting back to the podium has really fueled my thirst for continued success.  I have had my fair share of 2nd and 3rd place, but I am ready to win again.  I have never been more prepared to win, and it WILL happen soon!